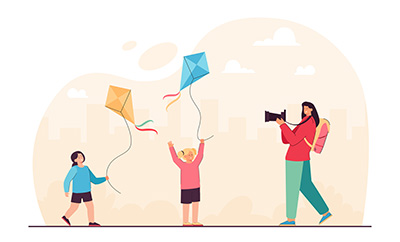 What is?

It is the upbringing of children based on the sharing on social media of aspects related to their lives. It refers to the tendency of many parents to share pictures and videos about their younger sons and daughters on social media, as well as their concerns and experiences around parenting.

Why?

Many parents want to share with other people the happiness of their motherhood and fatherhood, the child's physical development, their cognitive development, their doubts or concerns about parenting at different stages of growth... In an age when the internet and social media are the main protagonists, these channels are becoming a priority for parents with this need.

Dangers due to overexposure of minors

Any information posted on the internet and on social media is out of our control and lasts for a long time. It can be manipulated by others and used for digital fraud, impersonation, etc. Post your name, date of birth, age, address, tastes, etc. It may seem like an innocent act, but it can give criminals clues to decrypt passwords, access personal accounts, steal credentials, and make account transactions, and so on. Images or videos of minors can also be used for child pornography or cyberbullying. We must also consider the child's right to privacy, his or her reputation and the special protection afforded to him or her by international law.

Metadata should also be monitored. Posting a document, photo, or video may be unconsciously revealing a lot of metadata. In the case of a photo, it could reveal the geolocation of the photo (at home, at school, etc.), the phone model you have, and so on.

Before posting about minors

It is important to remember that posting pictures of other people on social media requires their consent, which in the case of children under 14 falls to parents or legal guardians.

One has to wonder if the child would agree that his image should be out of control, if he wants everyone to know intimate information, his age, date of birth ... It is necessary to think if this information will not harm him in the future.

Recommendations

Turn off geolocation when needed, set application privacy options, and limit what your contacts can see.

Do not post pictures in which the child can be easily recognized.

Do not create specific profiles of sons and daughters on social media.