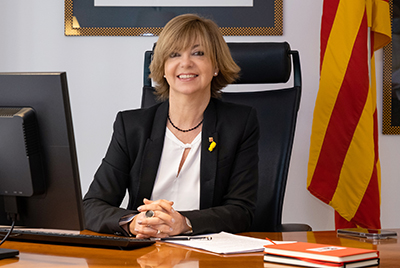 I would like to welcome you to the website of the Catalan Data Protection Authority. From this institution, we ensure the right to the protection of personal data, within the scope of the powers conferred by the Statute of Autonomy of Catalonia. We also inform about the rights in this matter, how they are exercised and what to do if they are not respected, we advise on the obligations provided by the legislation, we help the entities to fulfill them and we control that they do it properly.
Adoption of Regulation (EU) 2016/679 of the European Parliament and of the Council of 27 April 2016 on the protection of individuals with regard to the processing of personal data and on the free movement of such data (GDPR), meant a change of model in the field of data protection, with a new way of understanding and guaranteeing the right to data protection and the set of rights and freedoms of individuals.
Now, with an increasingly digital society, technology presents great opportunities, but also risks to people's rights and freedoms. That is why we have new challenges.
In this regard, we will work to train users of information systems, adults, children and young people, and we will continue with the active policies in education that APDCAT has carried out in recent years.
For the Authority, it is essential to spread the culture of data protection among all citizens, and especially among the elderly, in order to empower them in the defense of their privacy. One of the strategic lines to achieve this is to train trainers in this field and to build ways of collaboration and work between the entities, the universities and the APDCAT.
In addition, we want to improve cooperation and relations with other national and international data protection agencies, as well as establish networks of collaboration with data protection officers, to improve the guarantee of the right in all the organizations. With regard to the sanctioning task entrusted to the Authority, we want a didactic vision to be drawn from it and to learn, in each case, a lesson that will serve everyone.
Cybersecurity has also become a strategic area for any organization in recent years, as cases of cyberbullying and cybercrime have continued to grow. Therefore, it is necessary to collaborate with the entities in charge of cybersecurity, to join forces in preserving privacy.
On the whole, we will work with citizens and organizations to defend and disseminate data protection rights and freedoms. So receive my greeting and welcome.

Meritxell Borràs i Solé
Director of the Catalan Data Protection Authority