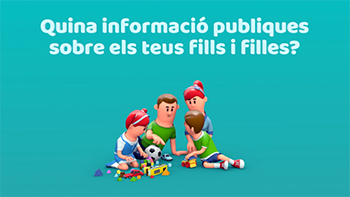 The Catalan Data Protection Authority (APDCAT) has published new material, coinciding with World Mothers 'Day, to warn them of the risks involved in shared parenting or sharenting. This is a growing trend in which parents share pictures, videos and information about their children on the internet and social media, as well as their own experiences or concerns about parenting.
Thus, the APDCAT has produced a new video within the #SecurityData campaign, through which it wants to raise public awareness about the protection of privacy and the use of new technologies. The video is complemented by a new web entry, which expands information on what sharenting is, why it occurs, what risks it entails and what needs to be considered before posting child information on the internet and networks, as well as some recommendations.
Consent is needed to post other people's information on the Internet and social media. In the case of children under the age of 14, this consent falls to the parents and legal guardians. In any case, before publishing images or data about minors, the APDCAT emphasizes that it is necessary to think about the right to privacy and the reputation of the child, and whether he would agree to publish images and intimate information on the Internet and social media, so that it is immediately out of control and can be manipulated.
It also warns you to post your name, date of birth, age, address, preferences, etc. can provide clues to digital fraud, accessing personal accounts, stealing credentials, and more. In addition, images or videos of minors may be used for child pornography or cyberbullying.
The APDCAT's recommendations include disabling geolocation, when not needed, and monitoring metadata. For example, published images may have associated metadata that allows location. He also recommends not posting pictures in which the child can be easily recognized and not creating specific profiles of sons and daughters on social media.
The new informative material is available on the apdcat.cat website and will also be published on social media. It will also be made available to the Department of Education, so that it can make it known through the Xarxa Telemàtica Educativa de Catalunya (XTEC).
In Spain, 89% of families share the content of their children on Facebook, Instagram or TikTok, approximately once a month. According to recent studies, almost one in five children between the ages of 9 and 17 say that their parents have shared information about them online in Spain, and approximately 12% have asked them to delete this shared information.
Coinciding with World Mothers Day, the APDCAT has released a new video to raise awareness of the risks of sharenting, which involves the publication of images, videos and information of children on the Internet and social media