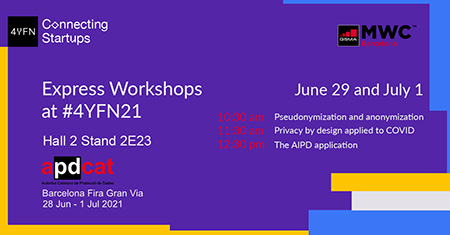 The Catalan Data Protection Authority (APDCAT) takes part in the Four Years From Now (4YFN) event from 28 June to 1 July, as part of the Mobile World Congress, to raise awareness among the entrepreneurship sector and startups of the need to integrate privacy by design from the start of a business project.
In this sense, the APDCAT has organized three express training workshops to quickly and didactically explain the key points that every entrepreneur must meet when starting a business.
APDCAT experts will give a total of six express workshops, three on Tuesday 29 June and three more on Thursday 1 July, at stand 2E23, located in Hall 2.
They will last about 15 minutes, and will provide an in-depth look at what privacy by design is and what it implies as one of the requirements of the General Regulation of Data Protection (GRDP). The workshops will also serve to discover a pioneering tool developed by the APDCAT to facilitate data protection impact assessments (DPAs), required by certain data processing operations.
The schedules of the express workshops are as follows:
Tuesday, June 29th
• 10:30 am - Privacy by design: pseudonymization and anonymization
• 11:30 am - A success story in privacy by design applied to COVID-19 contact tracking
• 12:30 pm - The AIPD application of the Catalan Data Protection Authority
Thursday, July 1st
• 10:30 am - Privacy by design: pseudonymization and anonymization
• 11:30 am - A success story in privacy by design applied to COVID-19 contact tracking
• 12:30 pm - The AIPD application of the Catalan Data Protection Authority
The Catalan Data Protection Authority organizes express workshops at the 4FYN event, which takes place from 28 June to 1 July, as part of the Mobile World Congress