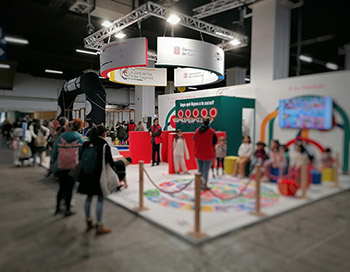 The Catalan Data Protection Authority (APDCAT) participates from 27 to 31 December in the Children's Festival, organised by Fira de Barcelona at the Montjuïc venue, and this year with the Barcelona 92 Olympic Games as protagonists.
In this context, the APDCAT organizes from today the Safe Data Games, with tests where children can learn what personal data is and how to take care of identity in a digital world. The aim is to take advantage of this appointment to raise awareness among children and their families about the importance of protecting their personal data, so as not to lose control of privacy.
Towin a medal at the APDCAT stand, children must use the best sports and ingenuity techniques in four different events. In thefirst round, the RaceDada, children have to go a long way on a giant counter, overcoming several boxes and learning how to make secure passwords or play with smart toys, among other challenges.
Next, it is necessary to measure visual skills with the Find test, locating in a drawing different situations related to privacy, such as Wi-Fi networks, selfies, padlocks, smart watches or fingerprints. In this way, children learn what implications each situation has for privacy and how to protect themselves against each one.
In the third test, children must demonstrate their skills with the basket and choose very well what to put on the net. Each ball represents a concept and only some are personal data. So you have to choose well before launching them on the network, because the error penalizes in the Safe Data Game.
Finally, swimming is present with a ball pool, where children have to synchronize with their personal data and dive to find them at the bottom of the pool, avoiding the waves.
This is one of the actions promoted by the APDCAT within the framework of its Strategic Plan, to promote the awareness and training of citizens in data protection. Especially children and young people, who are a particularly vulnerable group to the risks of the internet and social networks.
From today until December 31, the Catalan Data Protection Authority organizes the Safe Data Games within the framework of the Children's Festival, so that children can test their abilities when it comes to protecting personal data.