The APDCAT promotes the debate over privacy control in video games. Next Wednesday, July 6, the APDCAT participates in a talk within the activities programmed in the framework of the exhibition "New Screen: the video game in Catalonia", which can be visited at the Palau Robert until September 4.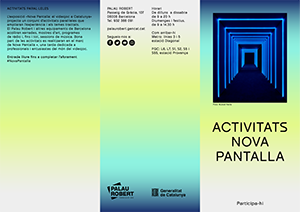 The data protection officer and head of strategic projects of the Catalan Data Protection Authority (APDCAT), Joana Marí, and the auditor of information systems, Xavier Puig, participate on Wednesday 6 July in the talk "Personal data : free video games? ", which aims to raise public awareness about how to make good use of video games in terms of personal data and take control of the information that is disseminated while playing.
The event, which will be held in the garage of the Palau Robert, at 6 pm, aims to raise public awareness of the need to take control of personal data in the use of video games, especially in the case of minors, a particularly vulnerable group.
During the talk, the risks associated with this practice will be presented, the cost in the shadows that can be for the rights and freedoms of people, and good practices will be shared to enjoy video games without suffering negative consequences for privacy.
Attendance is free and unrestricted.