The APDCAT and the Intercollegiate Association of Professional Associations of Catalonia present a new guide which includes the latest regulatory changes, guides professionals and answers frequently asked questions on how to properly comply with data protection regulations.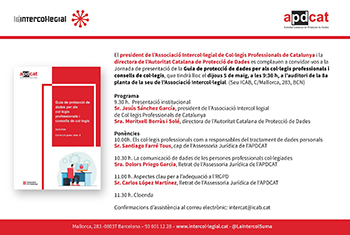 Next Thursday 5 May at 9.30 am, the director of the Catalan Data Protection Authority (APDCAT), Meritxell Borràs i Solé, and the president of the Intercollegiate Association of Professional Associations of Catalonia, Jesús Sánchez García, will present the new Guide to data protection for professional associations and school councils.
The document has been prepared within the framework of an agreement signed by both parties in 2019 and incorporates the latest regulatory developments. Guides professionals in meeting data protection requirements and contains downloadable templates for data collection and rights exercise, as well as answers to frequently asked questions.
At 10 a.m., the head of the APDCAT Legal Department, Santiago Farré Tous, will focus on the role of professional associations as those responsible for the processing of personal data. Subsequently, the lawyers of the Legal Advice of the APDCAT Dolors Priego Garcia and Carlos López Martínez will deal with the communication of data of the associated professionals and the key aspects for the adaptation to the General Regulation of data protection, respectively.