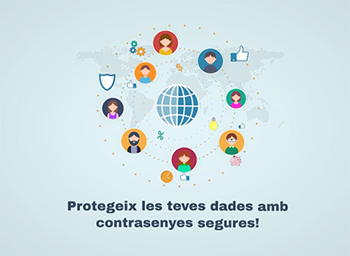 The most commonly used passwords to protect access to Internet services and social media profiles continue to be combinations of numbers or correlative letters and words in the dictionary, such as 123456 or password. The risk involved in using them is that attackers use lists of common passwords, which they try to automate. Thus, the use of an uncomplicated password significantly increases the risk of unauthorized access to personal accounts, exposing sensitive data that can be used for cybercrime.
Aware of this problem and coinciding with World Password Day, which is celebrated tomorrow, the Catalan Data Protection Authority (APDCAT) has published two animated informative videos as part of the #SecureData campaign. With this format, the campaign aims to raise public awareness of the need to preserve privacy in the use of electronic devices and on social networks. In addition to passwords, it will also affect issues such as multiple authentication systems, phishing, spam, or mobile security, among others.
The first videos posted focus on passwords and password managers, and explain the features they must have to make them secure and hard to decipher. In addition, they offer tools to detect possible leaks and easily manage the large volume of credentials that are generated.
The videos will be available on the apdcat.cat website and will be shared on social media. They will also be made available to the Department of Education, so that it can make them known through the Xarxa Telemàtica Educativa de Catalunya (XTEC).
Coinciding with World Password Day, the Catalan Data Protection Authority launches the #SecureData campaign and publishes two informative animated videos, with tips for building secure passwords and managing them correctly to prevent personal data theft