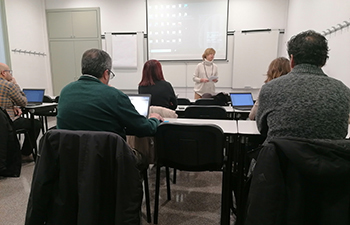 Eight Catalan universities are participating in the Specialized Training Course for Data Protection Delegates (DPD) 2023, jointly organized by the Catalan Data Protection Authority (APDCAT) and the School of Public Administration of Catalonia (EAPC) . This is a specific training aimed at people who act as DPD in entities and bodies of the Catalan public sector, so that they acquire the skills and knowledge necessary to carry out their functions optimally. This is the third edition of this specific training, after it was taught in 2022 for the local area and its public sector and in 2020, for the Administration of the Generalitat and its public sector. This year the course is intended for Catalan universities, statutory or independent bodies and the public sector of the Generalitat administration.
The course, which will end on May 26, has a duration of 180 hours, of which 83 will be face-to-face and 97 will be distance learning through the EAPC virtual classroom. The program is divided into 25 different units, which will allow you to delve deeper into subjects such as the principles of data protection, the rights of interested persons, transparency and the right to information, the approach to risk in data processing, impact assessment or DPD skills, among others.
The aim is to provide DPOs with the information to enable them to ensure adequate supervision and advice on data protection regulations. The aim is to provide the legal and technological knowledge necessary to identify possible risk scenarios for people's rights and freedoms and to minimize them appropriately and, finally, to provide the necessary management skills to carry out the functions assigned to them as DPD.
Public authorities and organizations are required to appoint a data protection officer, who advises the entity that processes data and supervises it to ensure compliance with data protection regulations. The Catalan Data Protection Authority, as the entity charged in Catalonia with ensuring the guarantee of the right to data protection and the set of rights and freedoms that may be affected by the processing of personal data, promotes the design and development of training programs for the DPDs of the entities in their area of ​​competence, in line with their Strategic Plan.
The Catalan Data Protection Authority and the School of Public Administration of Catalonia are organizing the third edition of the specialized training course for data protection delegates, which this year is specifically aimed at staff from Catalan universities, of independent bodies and of the public sector of the administration of the Generalitat de Catalunya.