The Catalan Data Protection Authority (APDCAT) participates in the celebration of the XX SEIS Forum for Health Data Security and Protection, which will take place on February 15 and 16 in Palma de Mallorca.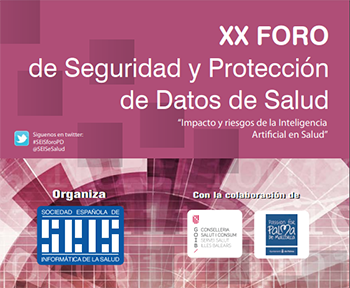 Specifically, the director of the APDCAT, Meritxell Borràs i Solé, will participate on Wednesday 15 at 10 am in the table "Data Protection Authorities", together with representatives of the Spanish Agency for Data Protection and the data protection authorities of the Basque Country and Andalusia.
Likewise, on Thursday 16 at 9.45 a.m., the head of the Inspection and Technical Area of the APDCAT, Blanca Peraferrer, will participate in the debate session "Practical cases: the experience of the data protection authorities". In addition, the head of Legal Advice, Xavier Urios, will participate in the session 'Impact and risks of artificial intelligence in health care', on Thursday 16 at 1 pm.
Where
Hospital Universitario Can Espases
Carretera de la Valldemossa, 79
07120 Palma, Illes Balears