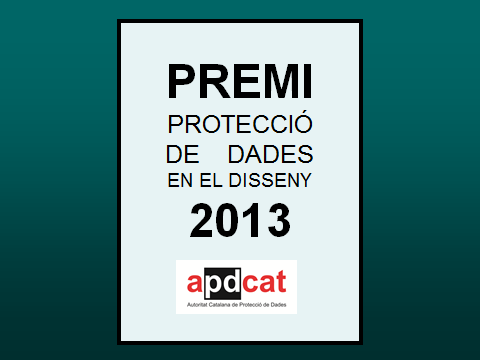 In the first edition of these awards in 2013 the jury, chaired by the director of the Catalan Data Protection Authority (APDCAT) Maria Àngels Barbarà, decided as follows:
Award: The TESIShce project, by SISinf SL

The TESIShce project is a solution for the management of electronic clinical records in large and medium-sized healthcare centres integrated into the HC3 (Shared Clinical Record in Catalonia) system. It incorporates an access system based on users/profiles which enables traceability and, in particular, includes an application that allows patients to determine the level of protection afforded to their personal data. They receive notification when a medical professional consults their clinical record and can even decide who may have access to such information.
SISinf SL, a Sabadell-based company, was created in 1997 and is engaged in the development of management software for hospitals and clinics.
Honourable mention: The iEducació project by Infoself Girona SL,

The iEducació project is an intranet for the academic and resources management of education centres and communication between teachers, pupils, parents and the school. It incorporates an application privacy manager as well as other functions related to data protection, including a password change wizard, incident manager and access registry. It also provides spaces for exercise of the ARCO rights (access, rectification, cancellation and objection), the storage of documents containing sensitive information, and cookie management, among others.

Infoself Girona SL, a company dedicated to the new Information and Communications Technologies (ICT) sector, forms part of the Infoself Group, created in 1995.

Infoself Group is a group of companies that provides the most appropriate, innovative technology to create solutions focused on the user and different business models. Solutions aimed at improving productivity, management, security and reliability, while maximising competitive advantages.
OTHER COMPANIES THAT PRESENTED PROJECTS IN THE 2013 EDITION:
The following companies also presented their projects to be considered for the 2013 Protection of Data by Design Award:
BLUE BRIDGE TECHNOLOGIES, LTD
INNOVERY ESPAÑA S.L.U.
STAITEX-CONFIDENCE DATA
PRIVIUS IN MIND S.L.
SOFTWARE, S.L.
GMV SOLUCIONES GLOBALES INTERNET SAU
SEGURDADES